After the successful commencement of our latest venture- The Kids Club, Team Kshitij was all geared up for the event listed under the month of July. With the way, monsoons were progressing, we were sure, the much anticipated Waterfall Trek to Kondana Caves – built in the late 200 B.C, would be full of fun for all our kids in the club. The trek was announced and soon all the preparations started gaining momentum. Much to our surprise, we got an overwhelming response with 72 confirmations! The footage in Mumbai Mirror generated more inquiries, but certainly we were booked to our limits, so we tried to squeeze in as many as we could.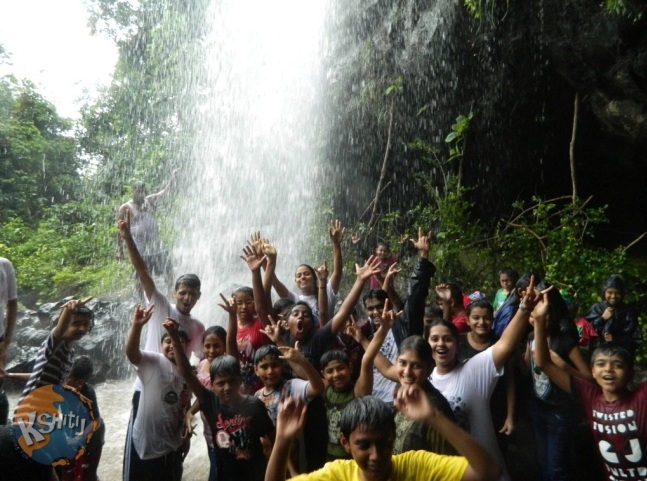 On 28th July, 2013 both the buses started on the dot as per the scheduled time, and we reached our destination- base village : Kondiwadi via Panvel , in about three and half hour's time. Since the kids already knew each other, they had a gala time during the bus ride, playing games and munching on snacks together. The trek commenced after a breakfast on idli and sandwiches with hot beverages. It was amazing to see a huge line of 72 kids waiting to be with their friends and yet obeying the guides for the formation of groups. Approximately nine kids per group, and we had eight groups with us, each headed by a Kshitij volunteer.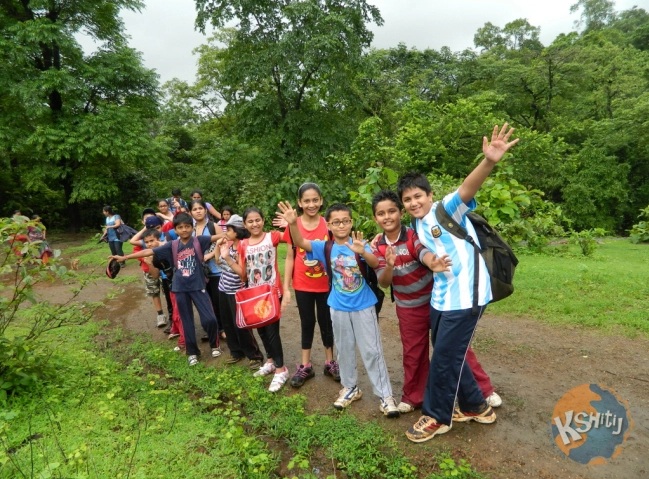 Tiny, cute little kids as they appeared in colored raincoats and their sacks on their backs, worried about their shoes getting dirty in the mud, and remembering their mother's instructions to not spoil their clothes!! What responsible behavior they sported… Amazing!!! Walking in pairs, the kids began their first expedition into the wild. Full of curiosity, with what lay ahead of them, they forgot all their tender worries about school, homework etc. They all had only one question on their minds- where are the waterfalls?? When are we reaching the caves?? Lush green forest, slippery muddy paths, rains all the way, crossing tiny rivulets, helping each other and saving themselves from falling, understanding the laws of nature, step by step the gang made it to the Buddhist caves which had Chaityas, Viharas and stupas to boast of. The falls were mighty and abundant, full of force with breathtaking icy cold water ready to relax everyone! What a pleasant sight it was to see the kids enjoying in their groups. Though tired with an hour's hike and their stomachs now growling for food as the lunch time approached, none of the kids showed any signs of impatience and pleasantly trotted on the way back, eager to change into a fresh pair of clothes and fill their bellies! All the mommies would have been stunned to see their tiny tots dress up and pack up dirty stuff neatly into plastic bags! Some even learnt to tie their shoe laces on the way up to the caves! How happy they were to be appreciated for this new effort by their guides. Hot food, yummy rasgullas and lemon juice satiated the young hearts as much they fueled their tummies.
The way back home took a little longer due to the constant traffic right from Karjat to Vashi – but the mighty spirited kids, unaffected by the tiring day and honking horns, continued to have fun and joke- entertaining even our team and feeling so happy about being acknowledged! Everyone reached home with content hearts! Team Kshitij got overwhelming appreciation texts and mails from parents about how their kids had a great time! That is when the team smiled – The task taken at hand had begun fulfilling…. The Kids Have Begun Exploring…. Experiencing…Exploring….